Hello and welcome back to a look beanhind the scenes of our little digital marketing world! With TikTok's meteoric rise, many professionals are asking themselves and their teams: Should we be developing and releasing video content for YouTube, or TikTok? That answer is a little complicated, but to be simple: it depends. Read on to find out more on TikTok vs YouTube!
TABLE OF CONTENTS
---
First Things First: What is TikTok?
TikTok is the new kid on the block in terms of online video publishing, but its rise to being among the top 5 social media sites (no.5) is incredible. TikTok's story started as a relatively popular, but ultimately niche app/website called musical.ly. In 2017 it was acquired by the Chinese company ByteDance and re-named.
TikTok is very user-friendly, with a free video editing tool that allows creators to make their own short-form video content, similar to the extremely popular app Vine in the mid-2010s. The editor allows users to add filters, stickers, and text-to-speech.
TikTok has a monthly user count of over a billion and was the worldwide most downloaded app of 2021.
What About YouTube?
YouTube is the entrenched name in the video-sharing game. YouTube is the 3rd-most used social media site on the web, and among younger audiences (especially millennials and older members of Gen Z) is the most popular. We even wrote a blog post on why you need to be on YouTube!
We're sure most people know the story of YouTube, but to summarize: it began in 2005 as the brainchild of three former PayPal employees as a way for people to share home videos. Google bought it in 2006, and the rest is history.
TikTok vs YouTube: Some Analytics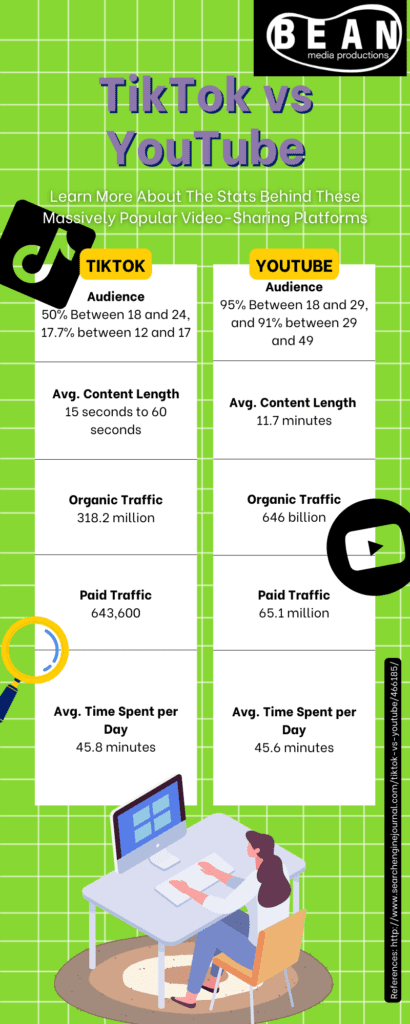 TikTok vs YouTube: Demographics
The audience for TikTok skews much younger than most other social media sites, with over half of its US audience being between 12 and 24. GenZ is well-represented on TikTok, making up most of the userbase, with more millennials and older generations taking it up as well.
YouTube, meanwhile, boasts an incredible 95% of the US audience between 18 and 29, and a still impressive 91% of the 30-49yo crowd. YouTube is almost ubiquitous and there never truly may be another website like it (seriously, think of the bandwidth that YouTube must have. One dude has over 2m uploads, to give just a hint of context).
YouTubers were also reported as the most trusted public figures by millennials and older members of GenZ, outranking influencers on other platforms and public figures like athletes and police. Over 30% of respondents to a Ypulse poll said YouTubers were the most trusted public figures.
TikTok Video Content
Content on TikTok is generally very short, with the average video being between 15 and 60 seconds long. You can upload videos of up to 3 minutes, but TikTok itself recommends 21 to 34 seconds as the optimal length.
Technical, in-depth videos aren't really possible on TikTok, but you can still create solid content entirely from your phone. As such, the recommended aspect ratio is 9:16.
YouTube Video Content
YouTube video content can run up to 2 hours from a verified account, or 15 minutes from an unverified account. On average, a YouTube video runs a little over 11 and a half minutes, in large part due to the mid-roll ad that a video gets from going over 8 minutes (this is exactly why you see videos that are 8 minutes and 1 second long).
YouTube is available and popular on mobile devices, but with its rise in features and apps developed for TV, plus the more in-depth editing options on desktop, it likely won't rise too much. As such, YouTube recommends a 16:9 ratio for longer-form videos, with a 9:16 ratio for Shorts.
YouTubers can also create curated playlists of their videos on autoplay, to keep viewers engaged and watching their content.
Ad Formats: TikTok vs YouTube
TikTok
There are a few format options for ads on TikTok. They are:
TopView
In-Feed
Branded Hashtag
Branded Effects
YouTube
There are also a few ad formats for YouTube. They are:
Skippable Video Ads
Unskippable Video Ads
Bumper Ads
Overlay Ads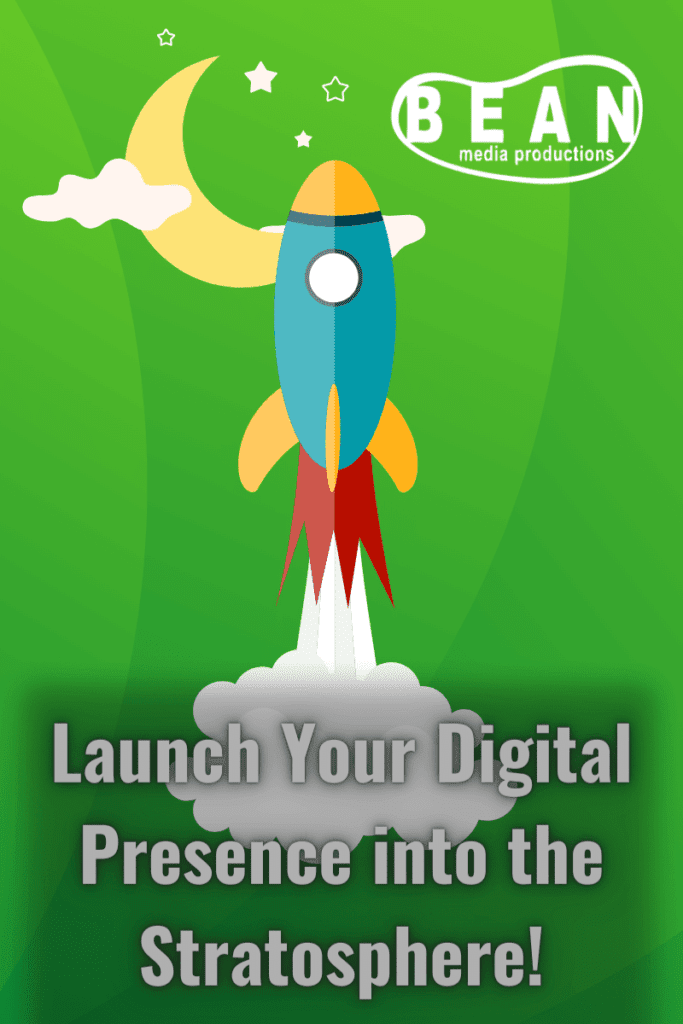 Should My Business Use TikTok, or YouTube?
Realistically speaking, if you're running video ads (and you should be!) you should be on both. While YouTube's total traffic is ridiculous, TikTok's incredible, impressive surge is something you should be working with. The overall best is dependent on what you're trying to do, with YouTube dominating in longer-form video. That isn't the only factor to consider though. Give us a call today and we can discuss your online video strategy!
Grow With Us!
Bean Media Productions is a full-service digital marketing team in Buffalo, New York. But don't let that fool you, we have worldwide clients! We give each of our clients the attention and service they deserve. We have a proven track record of success in growing business with search and digital advertising (including PPC), SEO, graphic design, content marketing, conversion rate optimization, video production and editing, and so much more.
Be Seen online. Be Heard by your prospective customers with SEO. Grow With Us here at Bean Media Productions!
Stay up to date with our blog, you'll regularly get some free essential digital marketing advice, updates on what's what in our world, and more! Check out our LinkedIn, Instagram, and YouTube pages too to get a more detailed picture of who we are and what we do. If you're ready to supercharge your online presence in 2022 and beyond, give us a call or fill out an online contact form. We can't wait to discuss how we can grow your business!