Marketing in 2019 is a complicated game. They say any publicity is good publicity, but when it comes to your company's reputation, there's a fine line between "good impressions" and "a bad impression." There's an endless amount of ways to market your business in today's world, with traditional and modern concepts being tested every day all around us.
Social media has shined a new spotlight on branding and advertising, as it allows for organic re-sharing of content, provides a voice to your organization, and a way for the user to speak to a previously faceless entity.
That Twitter/Facebook/IG account is manned by someone behind the scenes of the organization, and we've seen corporations speak candidly to pessimists and critics in the past.
You may remember this quip from Wendy's, who's become just as popular for their actions on social media as their burgers..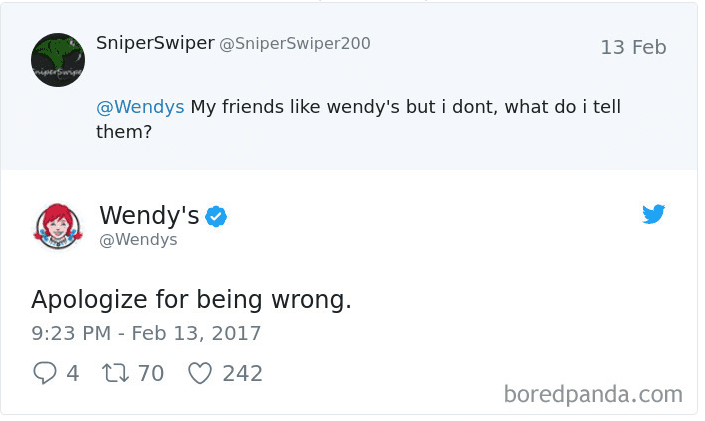 32 Hilarious Twitter Roasts By Wendy's That Will Make You Think Twice Before Posting
So does this mean your company should be handing out insults on your social media? Probably not. But, it doesn't mean you can't utilize it as a tool to communicate.
One insurance company recently went with a traditional, yet creative approach to a billboard. Using a bit of comedy, the billboard design dons a very familiar, yet affordable failed NFL quarterback in a suit, with a football in hand, and the quote reads,
"When I got cut, Direct still wanted me on their team."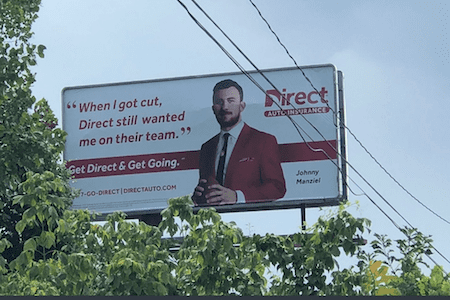 All in all, creative, humorous, and using a familiar face. However, getting your message up on a billboard can cost up to $5-$8K here in Buffalo NY. Factor in whatever money was in the budget to pay the spokesperson.
Can you really quantify the return on something like that?
Things got worse for Direct Insurance's marketing plan.
Johnny Car Insurance @JManziel2 on billboards now? They really tried to compare @bakermayfield to this guy? ???? pic.twitter.com/XsZyPOh2dB

— ???? (@ab89) September 2, 2019
Another former NFL player came across the billboard and couldn't help poking fun at the company's spokesperson for his career shortcomings reaching a new low, insurance billboard spokesperson.

Direct Insurance, calling a play straight out of Wendy's playbook decided to provide a little protection for their quarterback, quickly roasting Antonio Bryant for how many times he'd been cut in his career. Someone clearly did their homework on AB89 before clicking send.

But Bryant was quick to do his homework on the company itself.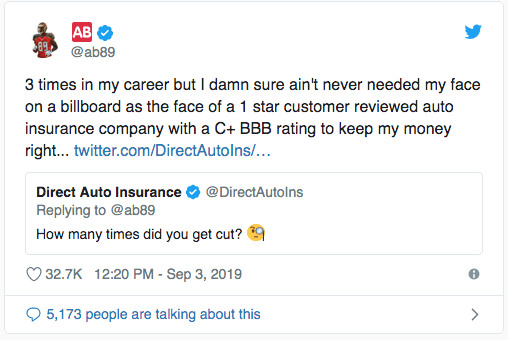 Bryant called out the company's lackluster reputation on the BBB, and 1 star reviews. Yikes. Talk about a backfire.

This is a good example of how marketing can follow trends and successes of other companies and still go wrong. Each company is different, regardless of industry. It's important to balance your marketing budget into campaigns that can generate return and be quantified.
It also goes to show you no matter how creative your strategy is; the work you provide, or the product you supply is always going to be what's most important to people.
Billboards still serve a viable purpose for some brands, and having a snarky sense of humor on Twitter could get you some followers/clout amongst teens. But the wrong move could really damage your reputation. It's debatable whether or not this campaign was successful. One could say it's publicity and a viral success, but someone else could say it put the company's face in the mud like a hit from an NFL linebacker.
If you have any ideas that you may be thinking about regarding your marketing strategy, give us a call! We'll be more than willing to provide feedback and talk creatively about your concepts.

Go Bills!