Welcome back to our little beanhind-the-scenes look at the digital marketing world! Here on the blog, we like to present information we've gained from our time working and learning in the industry and talk about the news and current events in digital marketing. Today, we want to focus on Google Business Profile (formerly Google My Business) and why you need it for your local presence.
UPDATES: November 2022: Google has moved Business Profile insights to the Search and Maps pages for businesses, rather than the dashboard shown below. Most of the information you know and recognize is still available, albeit in a slightly different format. The remainder of the blog follows unchanged from its first publication. December: The associated images for this blog post are updated with the new dashboard in mind.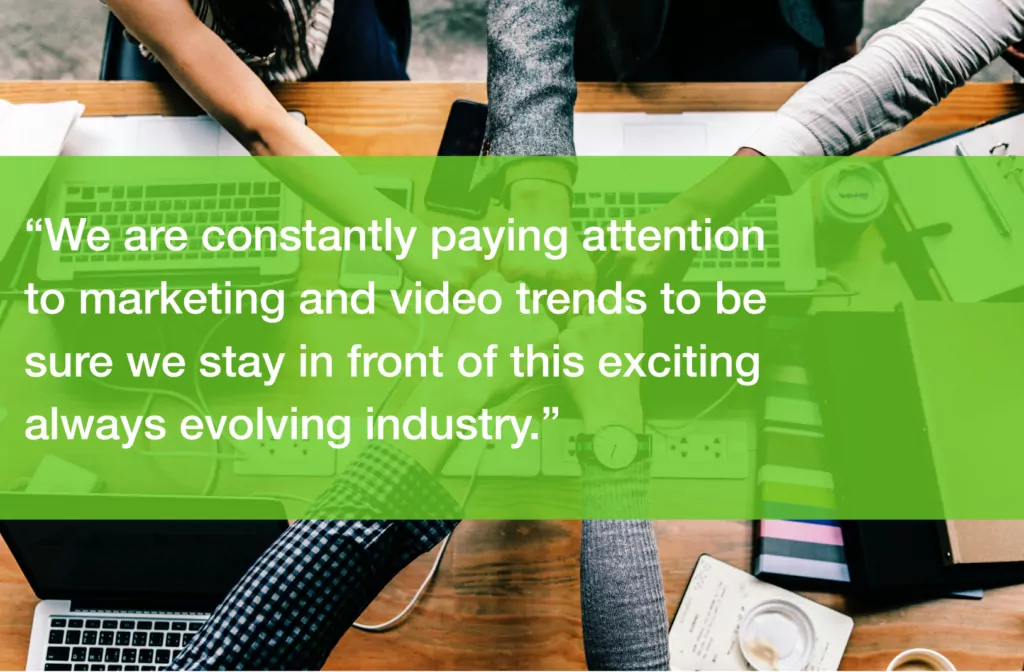 Do you need a Google Business Profile?
Well, you need a Google business listing and a Google Business Profile and account (Or Account Manager, like us here at Bean Media, create and manage one for you!) to get the full potential out of your Google Business Profile. But back to that question up top, do you need a profile?
Simply put, the answer to that question is yes. Your Google Business Profile is how people see your business on Google's search pages before they click into your website. If your website is your digital storefront on the streets of the internet, your GBP is a snapshot of how you're seen on the internet, a sort of phone book listing. You can have the best services and a prime location, but if you're not easily seen online, it's much more difficult to generate new customers or clients.
What is a Google business listing?
Google business listing is where we see various aspects of your business online, with or without you having created a business profile on Google. That's right, all Google needs to automatically create a business listing is the business name and address, and then makes sure the business isn't a duplicate. Your Google business listing displays reviews, photos, and your phone number, address, and hours (phone number and hours only display when you start managing your page).
What is Google Business Profile?
Your account is where the control panel opens up to you, so to speak. With an account, you can see more of the nuts and bolts of how you're seen on google, respond to reviews, post photos and set a logo/background, see your call history and more. You can even directly communicate with customers through messaging!
Your account opens up a dashboard where you can manage your business and share managing access for your marketing team as well. We can give potential customers a snapshot of your services, hours, products, and more. Getting seen on Google and building trust becomes much easier when you can directly share information with consumers. Plus, studies have shown that reviews are one of the leading factors in building trust with new customers to get them to buy.
The business information you can control is valuable in these profiles too. Additionally to what we've talked about, you can set health and safety measures, accessibility features, attributes like minority-owned, LGBTQ+ friendly, new products for sale, etc.
Differences between them: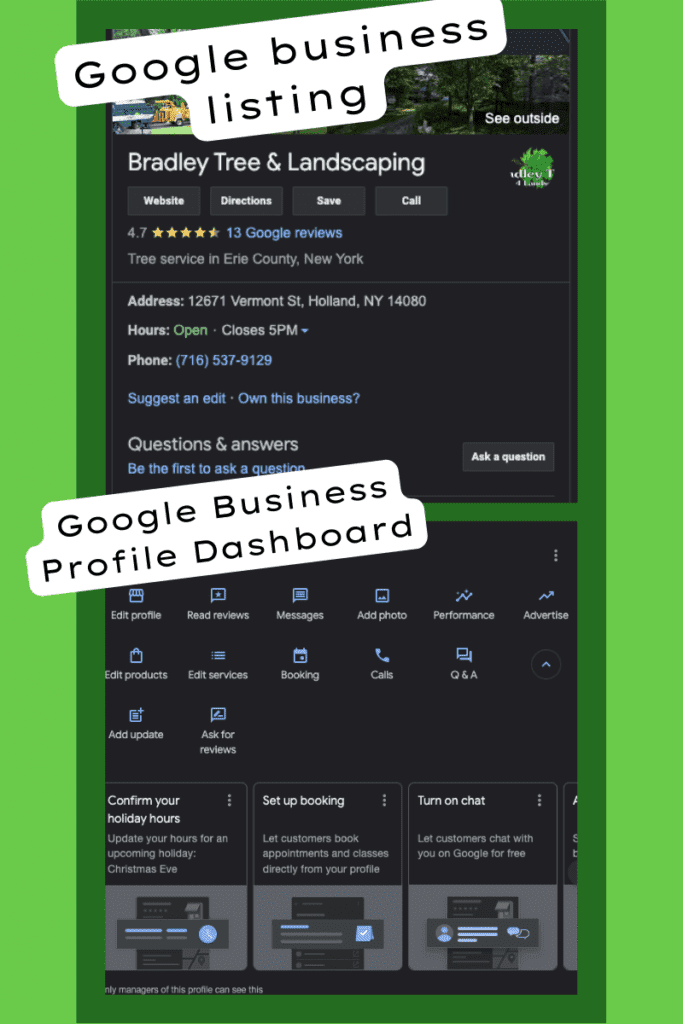 How To Create A Google Business Profile
It's a pretty simple process to set up your business profile, let's go through it.
First, you want to sign in to Google Business Profile Manager (go to the google business profile page and sign in/manage now).
Then, add your business. If you've already had a business profile displaying on the results and map, find it with the search feature and click Manage Now.

If your business hasn't had a business profile generated yet because it's new, click "add your business to google."

Put your business name and category in the field provided. Later on, we can change it or add more.
Next, Google will ask if you have a physical address that customers can visit. If you do, mark off yes and click Next. The following field will have you input your address.
Next, Google will ask if you have a service area, if you're a business that travels to locations or delivers.
Afterwords, we're going to add contact information such as your website and phone number. If you don't have a website, mark the box under the URL field.
Then, we're going to verify our Google Business Profile. There are a few ways to do this, via postcard, email or phone. Google is also testing video verification.
Finally, some basic personalization. We'll add hours, turn on call history, write a description and add a founding date, and turn on google ads.
Writing a description that's good for SEO is important for your business. If you're not optimized for searches, it's a lot harder to build that base of customers to leave reviews to feed new customers' trust in your product.
How To Use Google Business Profile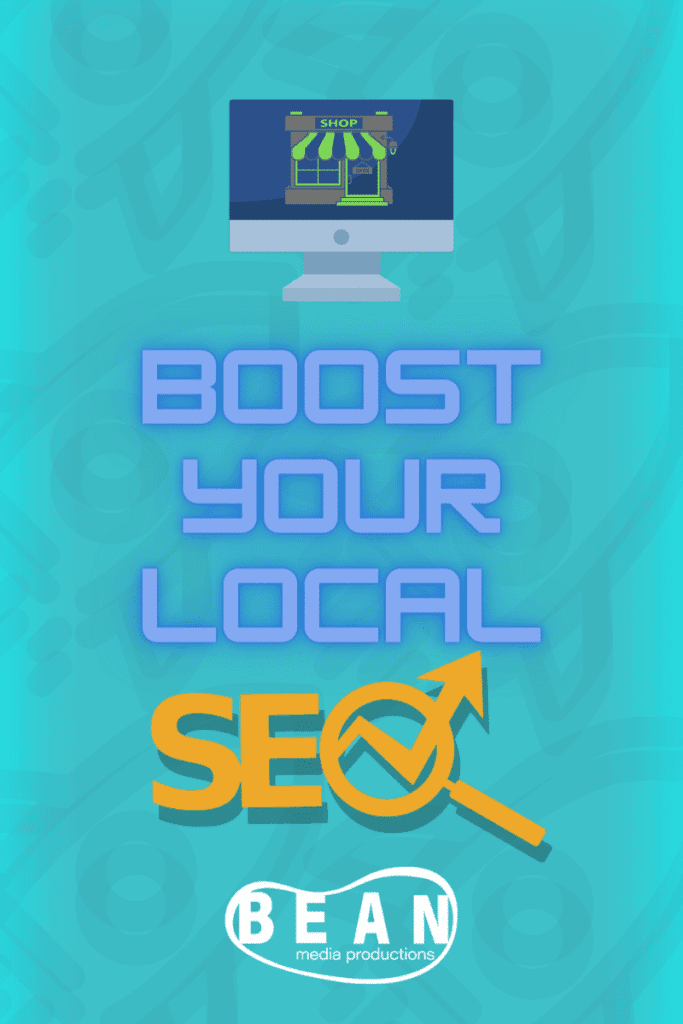 Now that our Business Profile is set up, there are four main areas that we can use it to grow our reach online. Let's take a look at those areas now.
1. Engage with Consumers
We can interact with consumers in a variety of ways with a Google Business Profile. We can view and respond to reviews, answer questions, enable direct messages, and set up alerts. You can publish posts to your business profile that can include info like new products, general information and more.
2. Highlight Your Business
An auto-generated Business Profile contains only limited information. When you create an account to manage it instead, so many more options become available for you. You can set hours, link to your site, have your phone number displayed, add some detail, and more. You gain access to many kinds of information and ways to display yours.
3. See Analytics
You can use your Google Business Profile to see important insights about how your business appears on Google too. In the Insights tab, you can find out how customers search for your business, whether it's Direct, through Discovery or Branded queries. You can also see where customers view your business, such as on search vs maps.
If you're wondering what those queries mean, here's how Google describes each:
Direct: People who find your Business Profile searching for your business name or address.
Discovery: People who find your Business Profile searching for a category, product or service.
Branded: Customers who find your listing searching for a brand related to your business.
You can also see the actions customers take with your business listing, whether they visit your associated website, request directions to your location, or call the listed phone number. The Insights dashboard will also show where customers are located when they request directions to your business, time and day when you get calls, popular times with enough traffic, and photo views vs competition.
4. Perform Local SEO!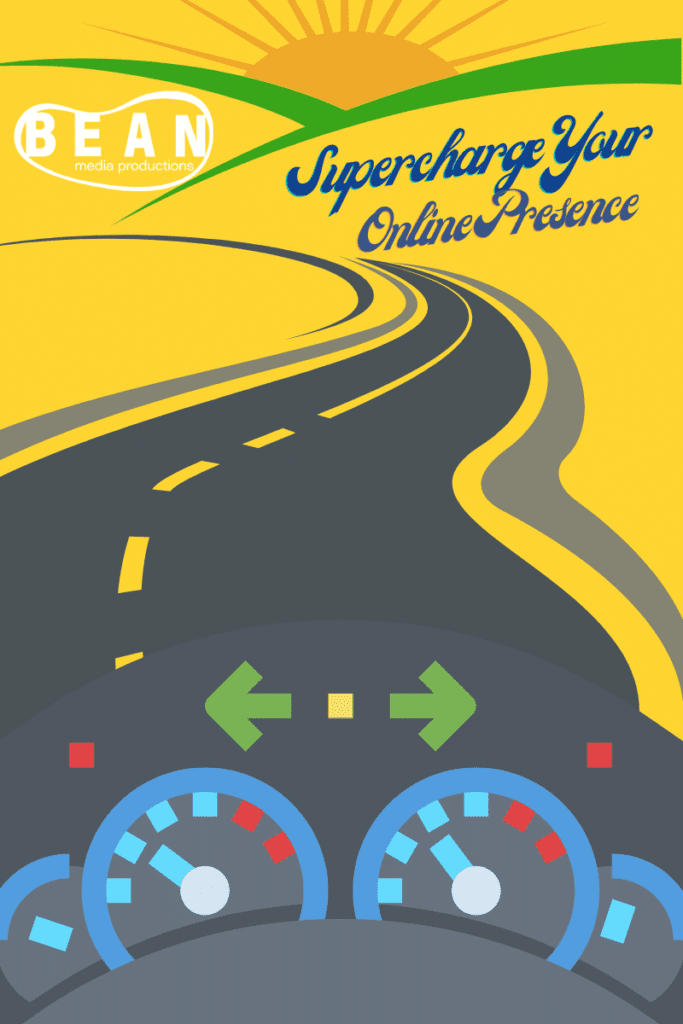 Your Google Business Profile is one of the single largest factors in performing local SEO. Oftentimes, before customers get to your website, your listing on Google is the very first impression of your business. It's almost like your digital phonebook listing. Unlike being sorted alphabetically though, Google ranks GBPs based on an algorithm, like ads and web results. In your dashboard, we can incorporate and optimize for keywords to rank in local results.
Just like we use systems on websites like WordPress to optimize for SEO, we can use your Google Business Profile to optimize your business listing and expand your reach! Just as with website SEO, Google Business Profile SEO relies on the pillars of targeting, quality, and trust. Local SEO and intent-based social media marketing are great for real estate digital marketing!
Grow With Us!
Bean Media Productions is a full-service digital marketing team located in Buffalo, New York. But don't let that fool you, we have worldwide clients! We give each of our clients the attention and service they deserve. We have a proven track record of success in growing business with search and digital advertising (including PPC), SEO, graphic design, content marketing, conversion rate optimization, video production and editing, and so much more.
Be Seen online. Be Heard by your prospective customers with SEO. Grow With Us here at Bean Media Productions!
Stay up to date with our blog, you'll regularly get some free basic digital marketing advice, updates on what's what in our world, and more! Check out our FaceBook, Instagram and YouTube pages too to get a more detailed picture of who we are and what we do. If you're ready to supercharge your online presence in 2022 and beyond, give us a call or fill out an online contact form. We can't wait to discuss how we can grow your business!